My birth experience with Midwife Angela Love was beautiful and perfect. I was so fortunate to have her as my Midwife because she was truly present with me for the entire prenatal and birth experience. She gave me the strength to trust my own body's wisdom. My first delivery in the hospital was an experience of stress and apprehension. I "endured" the labor and birth. This time I had an entirely different experience. There was very little pain, no crying, no screaming, just breathing through the contractions. I was surrounded with love and trust and my baby could easily come down the birth canal because my body was relaxed and at ease. I would highly recommend Midwife Angela Love to any woman who is considering a home birth or in need of  gynecological care. I feel grateful that I had the chance to know her and have her as my practitioner. She is a gentle, caring, professional, and honest Midwife. Not only is she my Midwife but she is also my friend. There is no other like her. I would gladly share more of my experience with Midwife Love my number is (321) 750-9463.
Frances Leggiero, Registered Nurse
************************************************************
Angela Love (Bolivar) is an incredibly competent and caring nurse-midwife. She helped me through all phases of my second pregnancy and gave both me and my second son wonderful care both during and after his birth.
I gave birth to my first son in a hospital setting, and the care at the hospital was so uncaring and terrible for both my first born and myself. At the hospital I was induced, my son was very stressed during the birth and he ended up in the Neonatal Intensive Care Unit for 15 days. I was not allowed to barely touch him or care for him during his hospital stay as a newborn and it was utterly heartbreaking for me!
I have to say that without a doubt the care I received from Angela was exactly the opposite. All of my questions were thoroughly answered for me during my pregnancy. I was made to feel both comfortable and confident about my upcoming natural childbirth. My second son never left my side once he was born, and I felt he was so loved by Angela once he arrived. I absolutely recommend Angela. She is an amazing midwife who really knows what she is doing. I would absolutely trust her to help me give birth again.
Alice Mensch Raval
Feel free to call me at 305-803-6654
*******************************************************************
Most women, myself included, don't look forward to our annual gynecological exams, as they are usually uncomfortable and often painful. However, with Angela, I am relaxed and I am always amazed at how gentle she is. Angie takes the time to listen to her patients and address their questions and concerns. I highly recommend her for anyone who is seeking a compassionate, knowledgeable practitioner in a serene environment. I can assure you that once you are Angie's patient, you will no longer dread your annual check-up and Pap smear!
Annie S.
****************************************************
Warning, this post contains birth details.
Like my late pregnancy with Aiden, this time around I also had the "wonderful" experience of "false" labour from about 37 weeks onwards. At first these bouts of contractions were short lived and several days apart. They were easily recognised as "false" labour. They were not totally false in that they did progress my body in preparing for childbirth. As I neared my estimated due date these bouts of contractions became more frequent, usually happened late at night, and each time the experience got more intense and more like actual labour. My estimated due date went by, and I was now losing several hours of sleep every other night to contractions. I was tired. I was ready to meet our new baby. I felt done being pregnant. The baby however was in no rush to be born.
The day I was exactly 41 weeks we had a scheduled appointment with our midwife Angela Love in the afternoon. Rob came home from work about 1pm so we would be ready to leave at 2pm for our 3pm appointment. We had lunch together. When Rob asked me how I was feeling that day I suddenly burst into tears. I had been up most of the previous night and was exhausted. We stood in the middle of our living room, Rob holding me in his arms while I cried into his shoulder. I felt foolish. I did not even know why I was crying. In just a few minutes the tears ended and we finished lunch before waking Aiden and leaving for our appointment. The appointment that afternoon was probably the shortest one we ever had. We were only there about 40 minutes. We talked about having to schedule a biophysical profile if the baby did not arrive by the end of this week, and scheduled another appointment for a few days. Now that I was past 41 weeks I would be on twice weekly midwife appointments. We also talked about things we could do to encourage labour to start naturally. We left encouraged that everything was good with both Mama and baby.
We had not traveled far, and were stuck at a traffic light where there had been a car accident, when the first contraction hit. I waited until there had been a few before I said anything to Rob. This was the first time I had contractions in the afternoon, so I knew this was different. By the time we were half way home I knew without a doubt that this was the "real" labour. We decided to stop at WalMart on the way home, as we needed a few groceries, and it would give me an opportunity to walk around before we got back to our apartment. By the time we got home it was nearly 6pm, and I had a definite pattern to my contractions. Rob fed Aiden, gave him a quick bath and put him to bed for the night. It was about an hour earlier than his normal bedtime, but fortunately 15 month old boys are not known for their ability to tell what time it is.
Now that it was just the two of us we were able to focus more on the actual labour. Rob cooked a quick dinner while I worked through contractions on the birth ball. After we ate dinner we called our midwife Angie to let her know labour had started, but that we didn't need her to come to us yet. We then called our friend who had agreed to come over during labour to look after Aiden. Our friend was still at work and we had to leave a voicemail for her. It was an hour later when she called back. She finally arrived about 9:45pm. We prayed together for the labour and birth once she arrived. By 10pm I was definitely in active labour. I had 3 strong contractions right on top of each other. Rob decided it was time to call Angie back and ask her to come to us. Just a few minutes later I had another 2 contractions on top of each other. There was no longer any doubt that this was the night our baby was going to be born.
Then we moved from the living room to the bedroom. I kept trying different positions to progress labour, but I kept coming back to sitting on the birth ball. Rob sat behind me to help me keep my back relaxed. I sat on the ball with our bed in front of me so I could lean on it to rest between the contractions. Our friend leaned over the bed and held my hands so I could squeeze on her during the contractions. She also kept me calm by breathing through the contractions with me. By about 11pm I kept asking for a break, a rest. I was so tired and really wanted to have a short nap so I would have the energy to keep going. Rob said later that his thought when he heard me asking for a break was "Oh good we're in transition, its nearly over." Angie arrived about 11:20pm, but couldn't get in through the security gate as the dial up from the gate to our phone wasn't working properly. Rob had to leave and drive up to the gate to let her in.
Not long after I felt like I really needed to use the bathroom. I was reassured it was just pressure from the baby. However I knew I also really needed to use the bathroom. So Rob and I moved to the bathroom. Rob was my constant support throughout labour. I leaned on him during the contractions in the bathroom. I had just stood back up when another contraction hit, and I was overwhelmed by the need to push. It caught me by surprise as my body just pushed on its own. That first push burst my amniotic sack. Fortunately some of it went into the toilet, but most of it hit the floor, and Rob's foot. I had two more pushes before the contraction was over. Our midwife wanted to check to make sure I was fully dilated before I pushed again. I still had a small cervical lip, so she wanted me to not push for 15 minutes to give my body time to finish dilating. That 15 minutes was the hardest part of the whole process. She panted with me during the contractions so I could stop myself. It took every ounce of concentration I was capable of to stop my body, and even then the first push of each contraction still got through and I only managed to stop the other two pushes. By now our bathroom was getting crowded with our midwife sitting on the side of the bath, Rob and I standing by the toilet, and the assistant next to us trying to clean up some of the mess on the floor. I knew this was not how I wanted to birth this baby, so I asked to go back to our bed. It took about 4 contractions to actually move from the ensuite to the bed. I really did not like the sensation of pushing while upright. I finally made it onto the bed and tried one contraction on my hands and knees. Again I really didn't like this position, even though I thought I would before that point. This was when I ended up lying down on my side simply from not knowing what else to do. It felt so comfortable to push in that position, so I stayed on my side, lying across the bed. Rob started out at my head, holding the pillows in place while I pushed. After a few minutes he moved to behind me so I could lean my back on him slightly. The slightly tilted angle with back support was the most comfortable position I could find. I held on to the pillows under my head with my lower arm and gripped my upper thigh with the other arm. The midwife's assistant supported my feet.
Each contraction still had 3 definite pushes. I could feel the baby move down inside me during the contractions, then move back up slightly between while I rested. I knew that this happened, but I felt so strange to experience it. The only actual effort I had to make was to concentrate on my breathing to stay as relaxed as possible. I was focusing on the directed breathing I had learned form "The Pink Kit" childbirth preparation material. In doing this I allowed my body to do the pushing by itself. My body knew how to birth this baby. I just had to stay relaxed and let it happen. Once the head got part of the way out I could feel the sting of my skin being stretched to let the baby out. Again I focused on breathing and staying relaxed and letting my body do the work. Unknown to me at the time, the reason I felt the stinging was because the baby had a nucal arm, and the elbow was causing some over stretching that made a small tear, and left a few abrasions (also called skid marks.) With the head partially out the midwife could see the fingers against the baby's cheek, and she had to pull the arm out, out of the way to allow the head and then the shoulders to come out. At this point there was a brief break in the contractions. I decided to try to push the rest of the body out on my own, but nothing happened. I had to wait for the next contraction and the natural pushes to birth the rest of the body. The pause was only a minute at most, but it felt like a long time to have a partially born baby. He was finally completely born at 1:24am, just over 9 hours from when I had those first contractions at that traffic light.
As soon as the baby was born Rob got to be the one to see what gender the baby was. I was thrilled when I heard him announce we had another son. Throughout the pregnancy we both had felt like we were going to get a daughter, but in the moment there was only joy that Aiden would have a brother to grow up with, someone who could be his lifelong best friend. Because I was still lying on my side the baby was laid on the bed next to me. It was such a precious time having those first minutes to be lying next to each other and getting to know each other. I held his tiny little hand and talked with him until the chord stopped pulsing. Then Rob got to cut the chord and hold the baby for a few minutes while I moved to a more comfortable position on my back to deliver the placenta. As soon as I was in position at the top of the bed, in a half recline, I was given the baby back. We nursed for the first time at that point, and he had a very good latch and strong suck. It didn't take long for the placenta to come out once we started nursing. Finally the birth was over. I did however lose a lot of blood, so the midwife asked if she could give me a shot of pitocin to stop the bleeding. I was given just one shot in the leg, and it seemed to do the trick.
Lying side by side just after birth
It was then time for Angie to check for any damage. This was when she found I had two internal abrasions that would need a stitch each and that the tear would need 3 stitches. I was given a shot to numb the area for stitching, but I could still feel the movement as she stitched me up. Once this was over with Rob got on the bed with us, and we were left alone just the 3 of us to become acquainted with each other. Our friend, who had been around for the entire process, made me a cup of hot tea to drink. Eventually I felt able to get up and use the bathroom. Rob held the baby, while the midwife helped me to the bathroom. Then once I was finished she helped me to clean up and change my clothes before I got back into bed. Once safely back in bed, and the baby back in my arms, it was suggested that I had something to eat. I was given some suggestions and finally settled on some scrambled eggs and toast, which Rob went and made for me. While Rob was gone to the kitchen our friend came and sat with me and the baby. After I had eaten our friend left to go home and get a few hours of sleep before she had to get back up for work again. Angie and her assistant stayed in the living room to fill out some of their paperwork while Rob and I sat in bed and marveled at this new little boy the Lord had given us.
Getting acquainted in bed together
After completing some other paperwork with us, including the application for the birth certificate, our midwife and her assistant finally got to go home. It was now about 4am. We were now alone, just our little family in our home. Aiden was still sound asleep, and had no idea that when he got up in the morning he was going to meet his new baby brother. We decided to try and get some sleep before Aiden woke up. Rob dosed a little on the bed beside me. I held the baby in my arm, and even though I was exhausted I could not sleep. So I lay there watching our new son as he slept in my arm.
When Rob went later in the morning to get Aiden up, he told him he had a new brother. However when he brought Aiden into our bedroom and sat him on the bed to meet his baby brother Aiden refused to look at him. He looked at Rob, and even at me, but he refused to let his eyes meet with this tiny baby in Mama's arm. It took a few hours before the curiosity hit strongly enough for Aiden to finally want to meet his new baby brother. Once he did accept the presence of the baby he got excited about him. Every day he now asks about the baby when he first wakes up.
Mama's boys
Today Seth is 4 weeks old. In some ways it has been a very quick 4 weeks, in others it seems like we have always been a family of 4. I have found the adjustment to our new family dynamic interesting. Physically it has been a very different recovery from Aiden's birth. Then I had to recover from surgery and once I had the external staples removed at 6 days I no longer felt much pain. I did have to wait to be able to use my stomach muscles, and so mobility was more difficult after Aiden. This time I have had one small abrasion that is taking time to heal, and at 4 weeks postpartum it is still giving me some discomfort. However due to location I have been told it could be 6-8 weeks postpartum before it has healed completely. Despite this discomfort I would gladly repeat this experience. Having a home birth just 15 months after a c-section birth has been an incredible experience. I was able to see the amazing power of my body work to birth this baby. We got to have a peaceful beginning to Seth's life with us. He has never been separated from me, and was not subject to unnecessary testing or injections immediately after birth. As a result he feeds a lot better than Aiden ever did, and is gaining weight well.
Seth at 2 weeks old
At birth (or at least about an hour after) Seth weighed in at 9lb 8oz, 23 inches long and 14 1/4 inches for his head. At 3 days his weight had dropped down to 8lb 14oz. Then at 7 days his weight was back up to 9lb 10oz. He was last weighed again at 21 days and was then up to 10lb 10oz. By now (28days) he should be over 11lb.
I am filled with awe at the amazing design of childbirth. Learning how to work with my body to birth this baby has been a wonderful experience. Being able to birth in the comfort of my own home, surrounded only by those we chose to be there, made Seth's entrance into this world one of peace and tranquility. It has been a joy to make this journey together with Rob. It has bound us closer together as a couple, and strengthened us as a family. I mourn for those women I know who have been robbed of this kind of experience by a doctor who told them it is too dangerous to have a vaginal birth after a c-section. I rejoice that the Lord in His grace has allowed us to have such a wonderful birth.
I pray that our testimony may encourage others to try for a vaginal birth after c-section (VBAC), and maybe even to home birth.
We highly recommend the Pink Kit method of childbirth prep with several DVDs and ebooks!

**************************************************
Birthing my first baby in the water was the best gift I could give to her. Unfortunately, my second baby was born in a hospital because I moved to Texas. We could not find a midwife to have my baby completely naturally like we did with Angela. At that time I dearly missed my beautiful midwife Angela. Angela was my midwife in Miami with my first baby and now that I can compare both births, I would never choose a hospital birth again.
My first baby's waterbirth was so special, completely natural without pain killers. The atmosphere was so relaxing, with all my family supporting me, with candles and calm music. My midwife was taking care of me and giving me massages to help with the contractions. In the jacuzzi with hot water I barely felt the contractions but the best of the entire experience was having Angela as my midwife.
She was so caring, sweet. With her I felt secure because of her vast knowledge. She really loves being a midwife and treated me so well. She was available to help and guide me anytime. One time I called her at midnight, because as a first-time mother, I had so many questions and concerns, and she was always able and ready to help me. I knew I could count on her.
I thank God for having Angela in that beautiful experience, I could not ask for more because she made it perfect. I really have the best memories. I will be grateful to her through all my life.
Lina Low
************************************************************
"Angela, thank you so much for doing such a great job with Hannah's birth. We are so thankful we had you as our midwife! God bless you, Melanie & Michael"
************************************************************
"Angela, Thanks so much for all your help answering all our questions, to the exams and during the laboring process. Thanks for sharing breathing techniques with me and handling our baby so gently for the first time. We are so happy you took part in our special experience. You provided great skill and made our delivery that much more peaceful for us both.
Many thanks, Peter & Farrah, D"
************************************************************
"Angela, I wanted to thank you and let you know how important and beautiful your job is. It was always my dream to give birth naturally and outside of the hospital, but it was seemed scary to most of my family. I was able to have my dream come true because I had you there speaking to me so calmly and confidently. I knew I could do it. I knew I could trust you completely and that's what gave me the strength to keep going. You and all midwives give us moms a chance to have a true life experience, and give our babies a natural and healthy beginning to life. Thank you from the bottom of our hearts. "
Martha & Baby Marco
************************************************************
Angela was our nurse practitioner and midwife, present at the birth of our first child. Our family decided on a natural birth due to the great benefits we heard. It wasn't easy, but we knew the sacrifices and hard work would be worth more than we can imagine. It has and we have a healthy vibrant young girl who exceeds our expectations each day.
Angela helped from beginning to the end and more. She was there throughout the whole process assuring us and equipping us with all that we needed to have a wonderful birthing experience.
The experience, like any other, is not what we expected, but in a good way. The birth was difficult and exhausting. What birth isn't? We had complications, but Angela's experience and professionalism allowed us to give birth to a wonderful, healthy baby girl. It was a great experience, because we did it naturally, and our girl is benefiting from it, and will continue to do so for the rest of her life.
It's important when you have a new child in the world to know that there are people who can support you when you are in need. Angela was there for us, and we will always be grateful for her support and professional service. Thank you Angela for allowing us to fulfill our dreams and for being there for us.
Cesar and Emma Abueg
************************************************************
Hi my name is Elke, mother of 2 children and I would love to share my experience with all the women in the world about the most beautiful event of 'giving birth naturally'.

I have always been a person that loves to be close to nature and have always opted for healthy solutions throughout my life.  So I was very pleased to find a natural birth center in Miami where I met Angela, where they not only provided the prenatal care but also the entire delivery and post-partum care. Coming there felt like a second home, the personal attention and real interest in how I was feeling made a big difference to me. I felt like I was well prepared for natural birth and I wasn't nervous when it all started. Birthing your first child is always very exciting but it all was very comfortable being with the warmth and professional guidance of midwives around me.
When it comes to giving birth, it takes the most out of you, both physically and mentally, and the entire atmosphere plays a big role. It was so nice to be in a room, just like your own bedroom, some candles and music that helped me to distract from the pain and exhaustion. It is great to have the support of the midwife, asking you if you prefer a different position, helping you to control your breath, or offering you a lower back massage and always talking with this gentle soft voice that calms you, letting you know they have all been there and you are almost there.
My second baby was born in the water, and it was the most incredible moment in my life for sure.  After some health checks the baby was put on my breast directly so there was this special moment that mom and baby could feel each other close. It is great how breastfeeding is aided also in later post-partum visits. Breastfeeding is not easy but as long as you persist in it, it becomes your natural way of feeding your baby.
I think that many women these days think too much about risks and the pain but for the latter one it is all relative, it will pass, and it is a unique experience to have some pain for giving birth. As long as you live with it, accept and don't fight it and every woman can do this in a completely natural way.
Thank you for giving me the opportunity to share some of my waterbirth natural experience and I would encourage all women to seriously consider this when they become pregnant. Angela, I am proud of you and that you continuing practice of the most rewarding work in live which is helping women giving birth naturally.
*************************************************
"I don't usually like telling pregnant women about my birth, because I had a tough one. I don't want to create fear. But no matter where you are giving birth, whether in a hospital, birth center or at home, complications can happen. Home is where my son was born, and he was a big baby, almost 10 pounds. His shoulders got stuck on the way out after the head had come out. This is called shoulder dystocia.  Angie, being the amazing midwife that she is, got my son out. She used tricks that I'm not sure a doctor in a hospital would be patient or confident or educated enough to do. Angie is a blessing and I trust her with my birth. So, don't be terrified of complications, but make sure you have a great midwife."
Summer
************************************************************
Pregnancy is one of the most important stages in any woman's life, where we face changes not only in our body but also emotional changes, where the arrival of a little being will change how we see life. During this process it is imperative not only to have an expert in physiological issues, but also to have someone that will inspire trust and gives affection in this important moment. Angela Love (Bolivar) provided me and my family prenatal care during the pregnancy of my only child Sofia, always with a smile, patience and professionalism. She always had an answer to my questions, doubts or worries. Angela not only has an extensive knowledge and expertise, she also has a commitment to women and the community: to advocate for natural birth options. Some hospitals don't care about that anymore and are only interested in making money.
Actually Angela provides me gynecologic care, always of the highest quality and without pain. I can say that Angela is one of the most experienced and professional midwives in South Florida.
From Raquel de Antonio, Spanish version is below
ESPANOL/Spanish
El embarazo es una de las etapas más importantes en la vida de cualquier mujer, en donde una se enfrenta a cambios tanto en su cuerpo como emocionales y frente a la llegada de un pequeño ser que va a cambiar la forma de ver la vida. En este proceso es fundamental contar no solo con un experto en cuestiones fisicas sino alguién que también pueda proveer la confianza y el cariño que en esos momentos se necesitan. Angela Bolivar me proporcionó a mi y a mi familia el cuidado prenatal durante el embarazo de mi unica hija Sofia, siempre con una sonrisa, la paciencia y el profesionalismo ante cualquier duda, pregunta o preocupación y sobre todo con la respuesta y el cariño adecuados. Angela no solo cuenta con un extensivo conocimiento sino ademas un compromiso con la mujer y la comunidad a favor del parto natural, aspecto que en muchos hospitales ya no es tomado en cuenta y solo se rigen por cuestiones economicas.
Actualmente Angela me proporciona cuidado ginecológico el cual siempre ha sido de la más alta calidad y sin dolor. Puedo decir que Angela Love (Bolivar) es una de las parteras con más experiencia y profesionalismo en el Sur de la Florida.
************************************************************
Birth of 11 lb 2 ounce baby!
For the past day, I have been trying to think of how to start this and what I was going to say.
Well, the one thing I can say is that the old saying that no birth is alike, really rang true for me.
And by rang, I mean more like a blaring fog horn.
And I also have to realize this is Escher's birth story. And to let it be just that.
Though it's so hard not to compare it to Ryden's.
Now to figure out when it all started. Technically, I had my first sensation of a contraction on Saturday, February 18th.
At that point, I was just shy of 41 weeks, and thought, here we go. Well, we didn't go that far.
They petered out a few hours later.
They did, however, start back up the next day. Yet, they petered out again.
Though disappointing, I was at least pleased that something was happening.
On Monday, I had my 41 week appt., and my midwife Angie did a membrane sweep for me, per my request.
That got some things going, but nothing solid.
Now, fast forward a few days through a rough, and emotionally long week.
On Friday, I had my 41 1/2 week appt. By this point, I was more than bummed about how long it was all taking.
I was starting to feel defeated. I was also starting to become very aware of the fact that I was very soon to be "post dates".
So, again, per my request, I opted for another sweep.
We ask talked other "natural" forms of induction that I could consider if I wanted to.
I decided to go to the store, after my appointment, and pick up some herbs to help move things along.
Between the herbs, walking, pumping several times, and a few other labor stimulators, I had hoped things would really get going.
They didn't.
So, this brings us to Saturday, February 25th 2012.
I woke up and had my breakfast as usual.
Then at 9am, I decided to wash down my breakfast with a wonderful milkshake……..
….that consisted of 2 Tbsp of castor oil, orange juice and, vanilla ice cream.
Shockingly, the OJ and ice cream did an amazing job of hiding the castor oil. It was delicious.
Then Eric and I went on a walk through the neighborhood with Ryden. I was having some Braxton Hicks or "Tony Braxton's" as
Eric likes to call them.
But that was it.

And if there was anything that I felt was holding labor back, it was not having decided on a middle name.
Well, during the walk, we instantly decided on one. Both of us.
Shortly after I go home, the castor oil kicked in for the first time. That was at 10 am.
Then I decided to do a little more pumping, and once the BH got a little stronger, I took one dose of my herbs.
I kept walking around, and could feel things continuing, though nothing major yet.
Eric was planning on doing some grocery shopping, so, he was getting ready to head out.
Right before he left, I was in the bathroom, and for the first time got a little contraction that I actually felt in my back.
I thought, now that is what I remember. And it made me pleased. So naive…. haha.
I told Eric, I think I might have just had a real contraction, so, he should get going.
I figured even if this was the beginning, it would be a long time, before things got serious.
I think at this point, it was some time around 11:30 am.
So, he left, I took a shower, and surprisingly, these contraction type feelings kept coming.
I started to blow up the birth tub, and get the room and myself ready for labor.
I let things go on for a good 30 mins. before I even attempted to time them.
I also called Eric to tell him to hurry cause I thought it was happening.
He had the nerve to answer the phone by telling me he would call me right back.
haha…. I was like, what!?!?!?
After timing them, I noticed that they were already 5 minutes apart and at least 45 seconds long.
Already!
This wasn't even an hour from when I first felt one.
Eric finally called back, and I told him that he needs to hurry home. I need him.
I also called Angie, my midwife, around 12:45 just to give her a heads up.
She told me to call her back when contractions were closer, my water broke, or if I though it was time.
I texted the photographer and told her today or tonight might be the day.
With Eric home, everything really started to speed up. We were able to get Ryden down for his nap, and I
continued to labor. I was already having to sway through the contractions.
Just before 2, I felt things were moving really fast, and this was kind of freaking me out. I knew it meant I had a few hours
before baby would be here, or I was going to have a long, hard and intense labor.
I had Eric call Angie to tell her I think things were moving quickly. She asked him if I thought she should come over.
I was so thrown off by the intensity that I said, "I don't know!" and I didn't. I knew I wanted to get in the tub, and that must have meant things were
intense.
She said she would start getting ready to head over.
Right after that, I had Eric help me figure out if it seemed like my water had broken. I know that sounds silly, but with Ryden it was a huge
pop and crazy gush of water.
This was this weird little trickle, that only happened occasionally.
He saw some of the trickle, and was like, "oh yeah, that's your water!!"
So, not less than 10 minutes from the last call, he called her back to tell her we 'think' my water had broken. hah!
It was now 2 pm.
I got in the birthing pool, and had Eric call everyone else.
Contractions were intense while I was in the tub. I was having 1+ minute contractions every 4-5 minutes, with 30-40 second contractions
piggy backing them a minute later. It was super overwhelming, and I had a hard time getting my head straight.
My mom arrived first. She was shopping, got the call, and left her buggy at the store and booked it over.

Then the photographer, Angela.
Ryden was still napping, and my poor mom was trying to stay busy, so, that she didn't have to watch me be really uncomfortable.
At one point, I got out of the tub, walked around, and swayed through contractions.
Eric would push on my back to ease the pain.

Oh,the pain! It was really starting to freak me out. AT some moments, I was truly doubting my ability to it this time.
I remember thinking… What was I thinking doing this again?!?!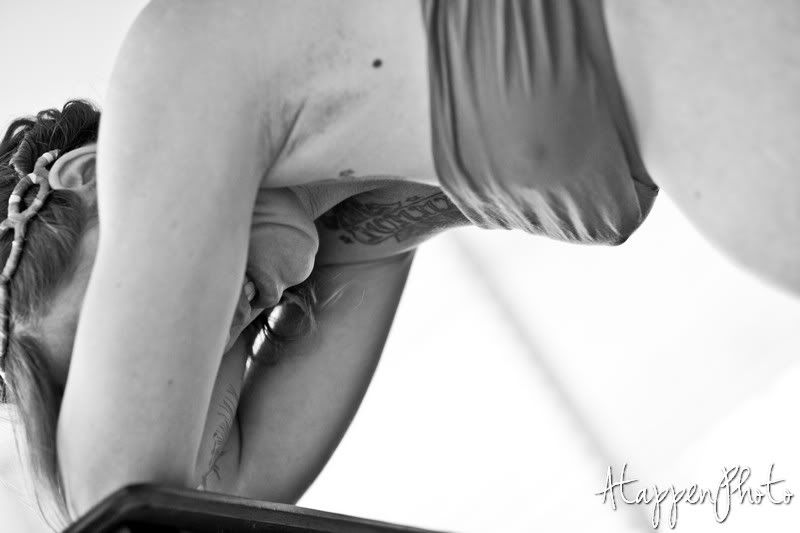 Right around 3, I think, Angie and her assistant midwife, Mary, arrived.


She watched me for a few contractions, and asked how I felt.
I had no idea. It was so intense, but so early, I didn't know what to think.
She then asked me if I wanted to be checked. I was so pleased, because I didn't know if she was going to once I was in active labor,
and knowing my waters might have broken.
I said, "YES, please!"

This is when you start doubting everything. I was so afraid she was going to tell me I was maybe a 4 or 5.
I was at 3 the previous day.
Well, good, crazy news was headed my way.
I was a really stretchy 8!!! And super effaced. Holy shit, I thought.
This is happening!

I got back into the tub, and with the next contraction or two, started to feel my body bearing down. I couldn't help it. And, oh man, was
it overwhelming. I had not felt this level of intensity with my last birth.


I yelled out to Angie that I felt like my body was pushing, and I didn't know if I should, but I couldn't handle the pain otherwise.
She said it was ok, that I was really stretchy. I was worried about causing a lip or something.

At that point, I had to get out of the tub, and go sit on the toilet. I tried standing, but that was a no-go.
I think I was in transition. Probably around 3:30. A mere 4 hours after the first feeling of something big.
I ended up on the bed, and tried pushing. Not real pushing, more of working through the contractions cause that was
the only way I could deal with the pain.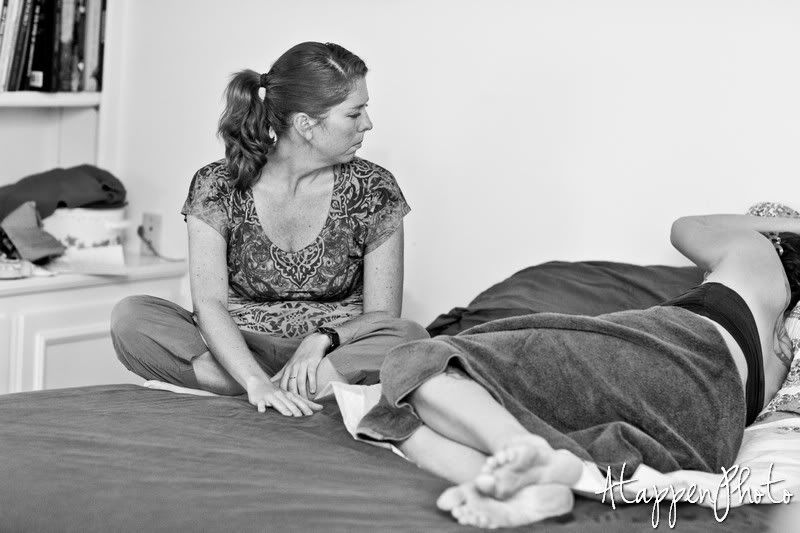 After a little while, I don't know, maybe 30 minutes of being reclined, Angie suggested
I get up, cause Escher did not like me on my back. It was affecting his heart rate.

So, I stood through some contractions, squatted, was on my hands and knees leaning over the birth ball, and a few other positions.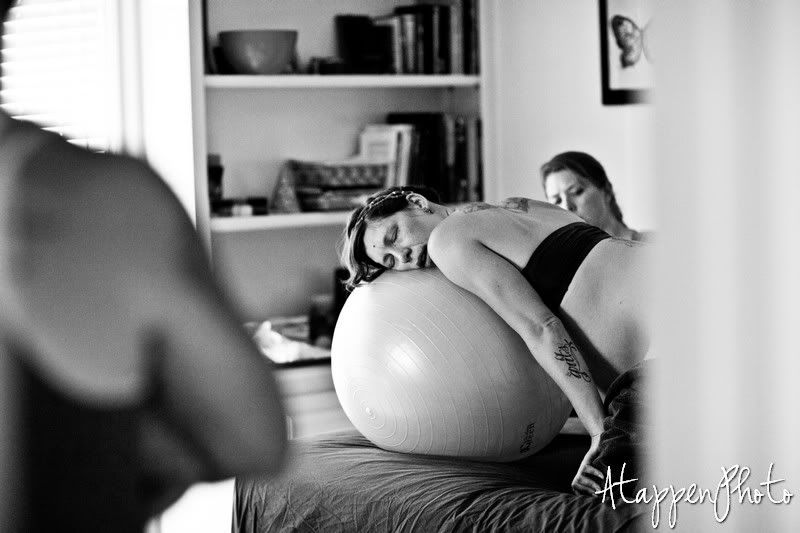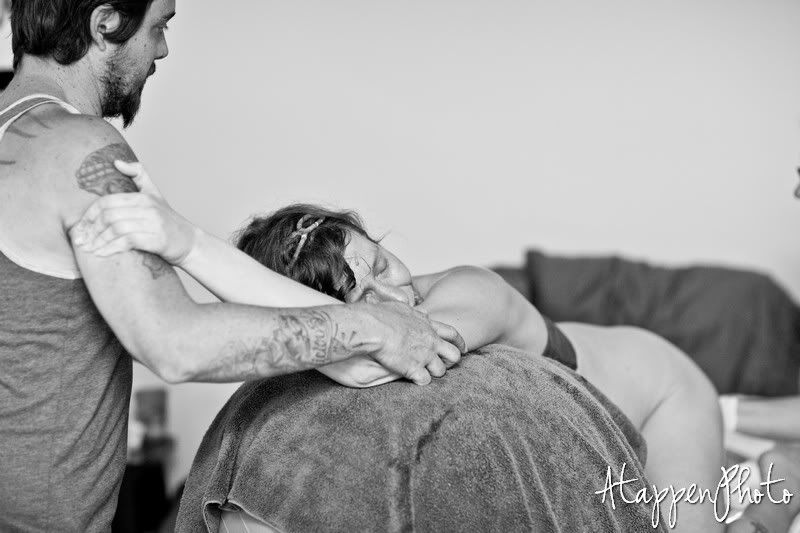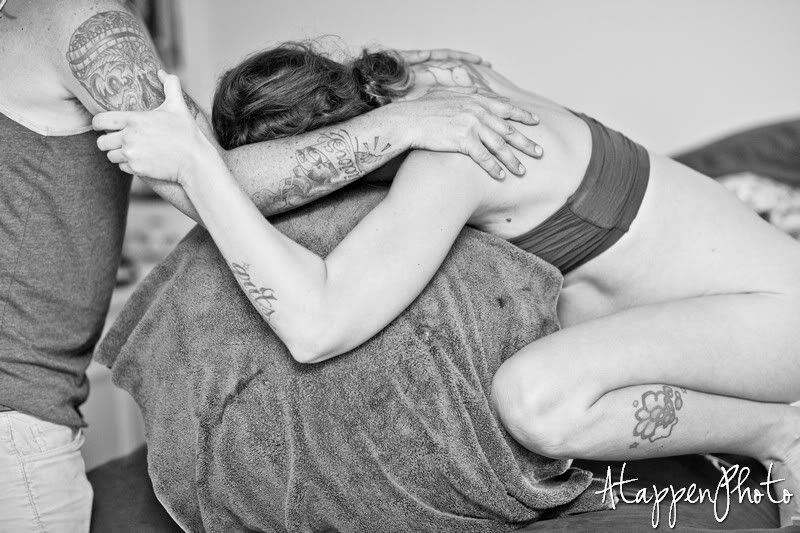 Eric and the midwives were super encouraging, but at a certain point, Angie felt that these weren't doing enough.
I was trying my hardest to push, but just wasn't pushing hard enough.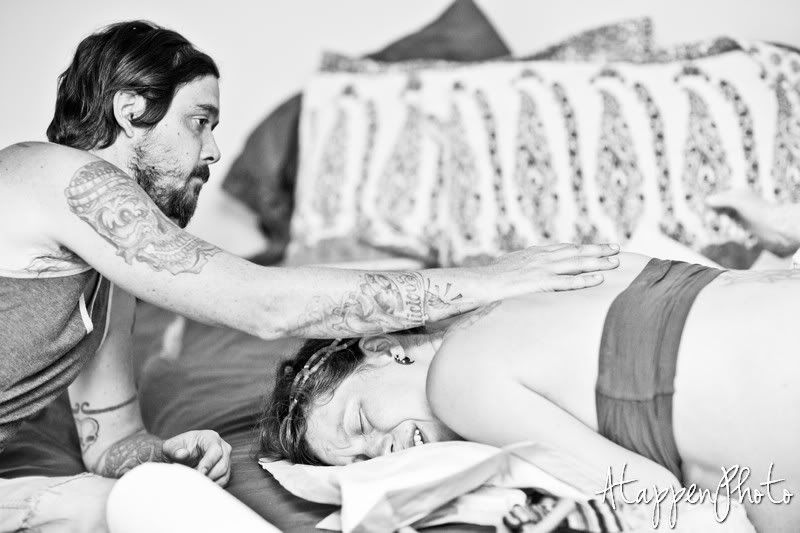 Angie had been so good at monitoring Escher's heart rate, and had decided it was time for me to sit back, upright, on the bed,
and really get down to business.
Nothing but straightforward calmness.
Man, this was the hardest thing I had ever done.
They put an oxygen mask on me in between contractions, and really guided me with pushing through contractions.
I'm not quite sure of the timing, but I'm thinking after maybe 10 or 15 minutes of this, Escher was making his way down and out.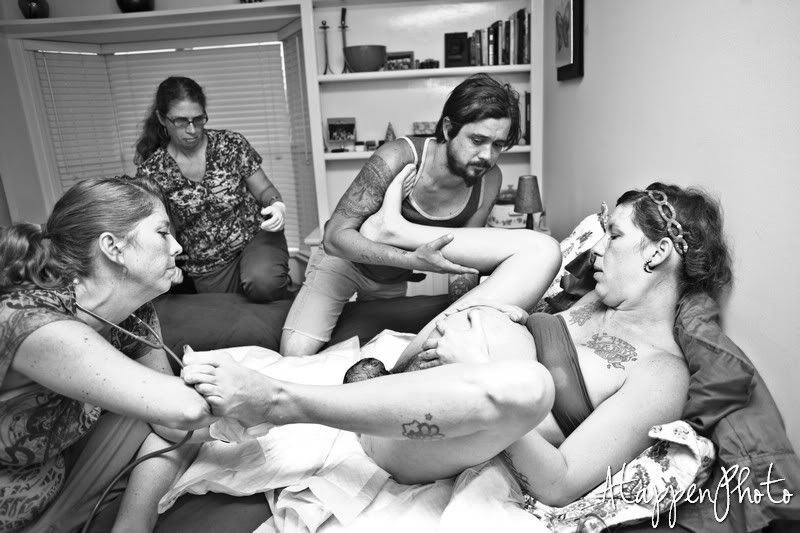 Finally, after a lot, and I mean, a lot of burning, Escher's head finally came out. I was so happy to see him, and could see that his head was blue.
So, now I had to blow through the burning, until the next contraction came.
Eric was having a really hard time here. He could see his head, and that there was also the cord around Escher's neck.
Unlike Angie, Eric did not know that this was fairly common. His cord was still intact (and not clamped), so, he was still getting his oxygen.
With the next contraction, or two, out slid the rest of him.
At 4:37pm.
Unlike Ryden, I didn't get him immediately.
I heard him make a peep right when he came out, so, I knew he was ok. Even though he wasn't crying yet.
Angie flipped him over and patted on his back quite a few times, and after doing this, he was crying loud and clear.
Music to everyone's ears.
Though, I believe a minute too long for Eric. I feel so bad knowing how he was processing this on the inside.
Once he started crying, Angie handed him to me and started to suck a little fluid out of him. I was so happy to have him!!!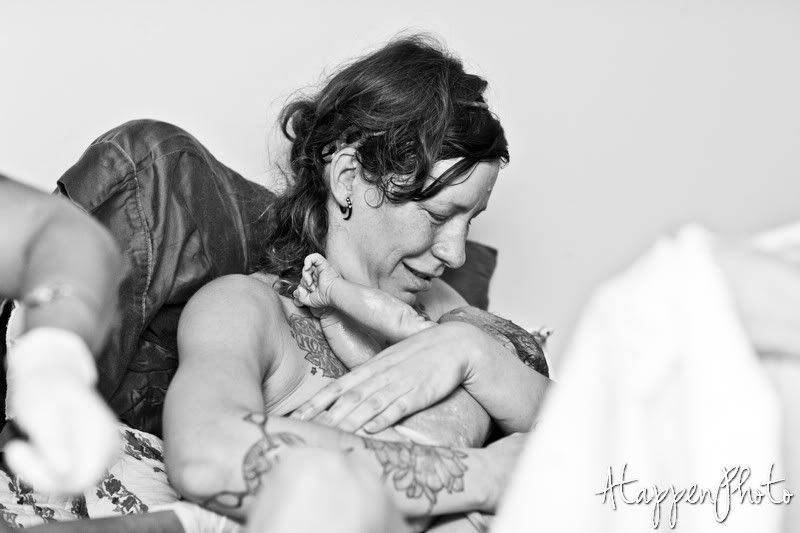 I didn't realize it, but everyone else knew he was big. I asked how big, and they were like, definitely 10 lbs.
I could not believe it! Although it did make sense with the pushing being so hard.
Oh, sweet baby!!!
After the birth, they started to manage my third stage, and I was brought some juice and Shepard's pie.

Angie had to give me some pitocin for the bleeding (technically, enough to be considered a hemorrhage), and monitor me.
The same thing happened to me with Ryden's birth.
Then my mom brought in Ryden to meet his baby brother. He was SO happy to meet him.
I couldn't believe how happy he was.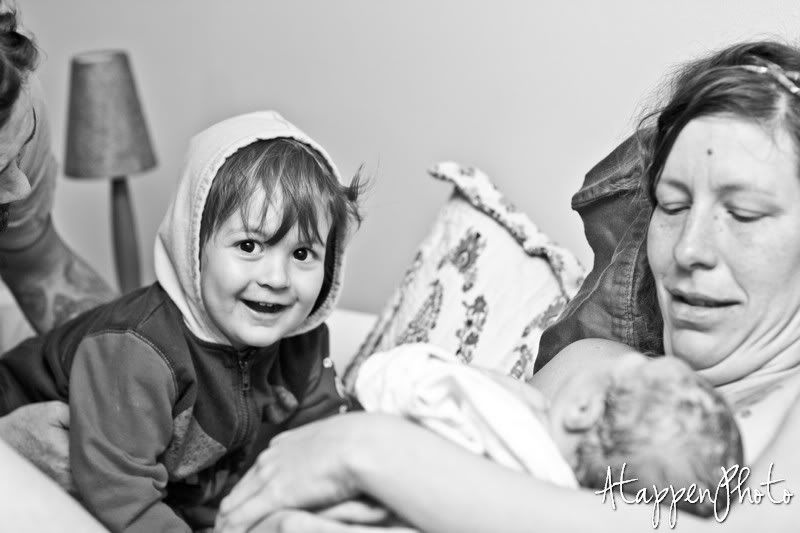 After getting me bandaged, and cleaned up, Escher was finally weighed.
11 pounds and a whopping 2 ounces!
Seriously, are you kidding me?
We were all in disbelief and amazement!!!!!

Over the next several hours, I held my sweet baby, nursed him, ate carrot cake and a roast beef sandwich, was monitored, got two bags of fluids
(low blood pressure to begin with plus loss of blood equals extra low pressure), and finally got tucked into our bed.
It was after 10 pm, and the midwives were finally on their way out.
And we were a family of four. Sweet happiness.
I think back to how everything played out, and couldn't be happier with the decisions we made.
Had I been with an OB, and not my patient midwife, I would have definitely been convinced to induce.
For size, and for going late. That would have been such a harder labor for Escher, especially considering how his cord was, and possibly a section.
Not the end of the world, but honestly, not nearly as gentle as how things turned out for him.
I am so thankful for everything, and so thankful it is over… hah!
Though, I am a bit sad because my baby boy is already four days old.
Time stood still for weeks, and now the days are flying by.
Stay golden pony boy.